(Germantown, Wisconsin) The community has always been a huge part of library services at the Germantown Community Library. For years, the library has enjoyed participating in local events such as the festivals, the 4th of July parade, Christmas festival and school district programs – just to name a few. This summer, the library is excited to take this a step further and bring more of the library outside of our building.
'The Enchanted Library' will do just that. It is the Germantown Community Library's new mobile book trailer filled with books, movies and activities to bring the library into the communities of Germantown, Jackson and Richfield. Residents will be able to check out and return items at all of our 'Enchanted Library' programs. The mobile library even has its own enchanted theme and logo. The beautiful artwork was designed our Youth Service Specialist, Shannon Siebers.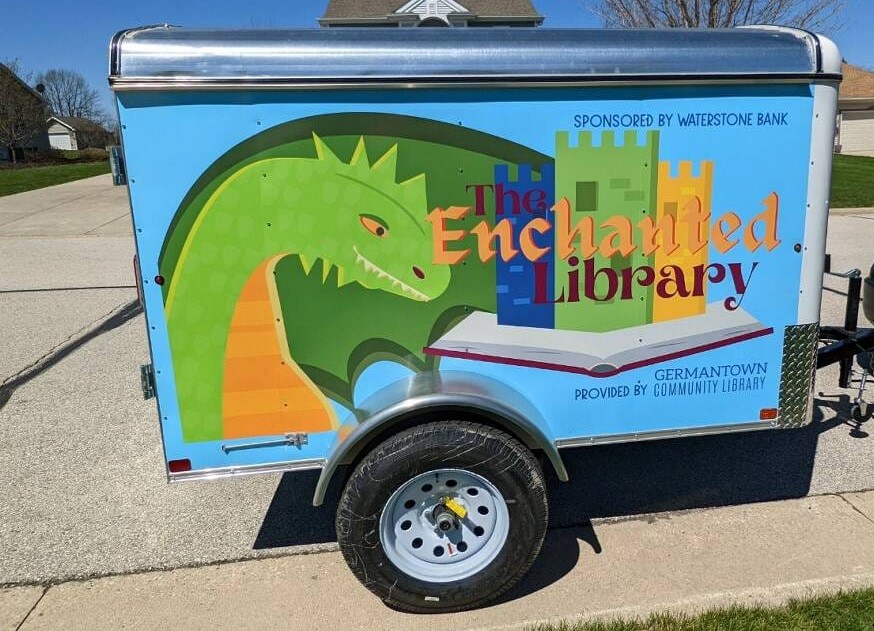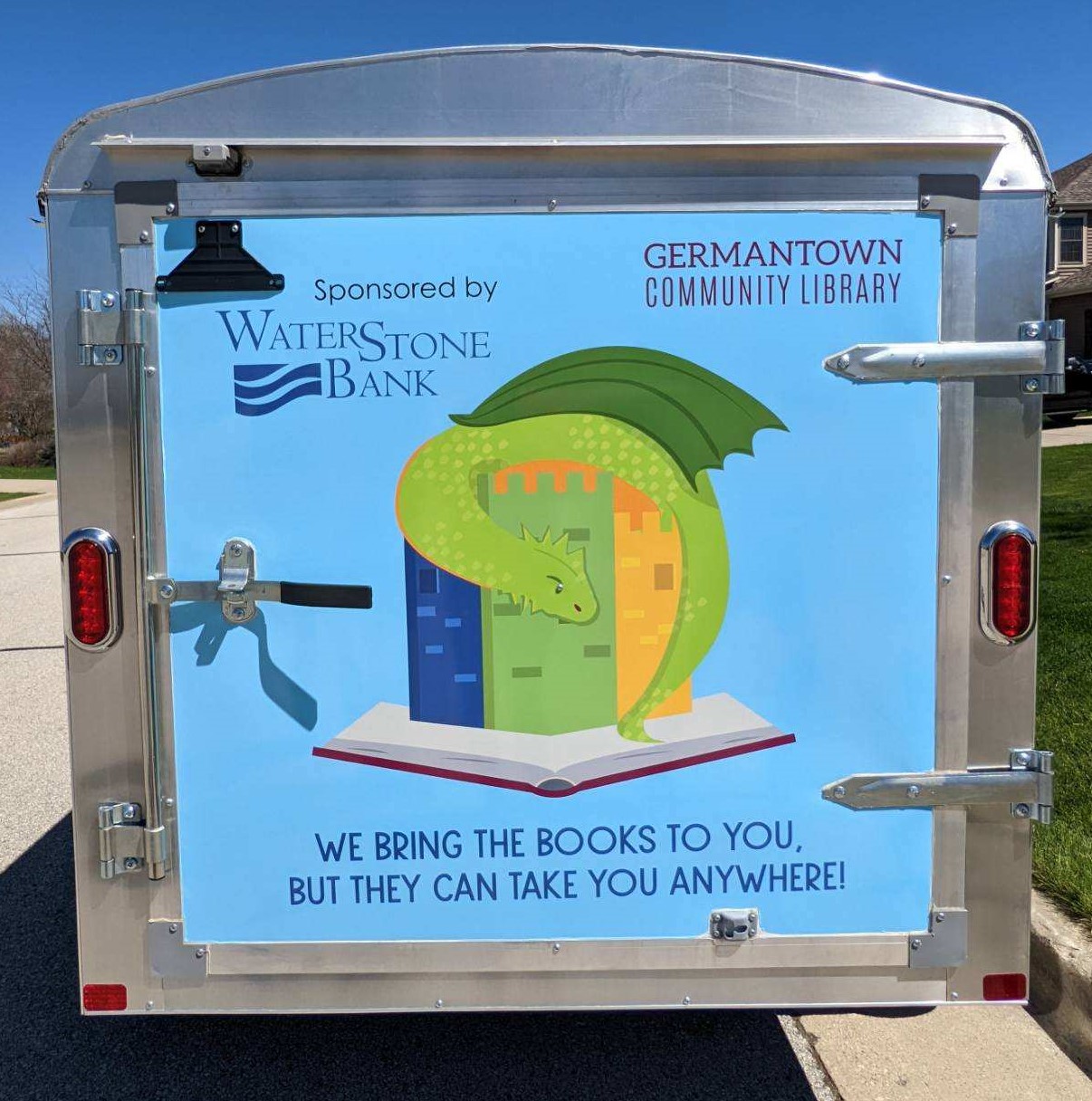 Generously sponsored by WaterStone Bank in Germantown, the Enchanted Library will be launched on May 21, 2022 at our Bookmobile Party from 10:30am – 12:30pm. The event will include tours with the Monarch Library System Bookmobile, the West Bend Outreach Van and The Enchanted Library as well as ice cream, crafts & activities. A ribbon cutting through the Germantown Area Chamber of Commerce will also be held at the library at 10:00am.
The following week, 'The Enchanted Library' will be out and about in the community at the following programs:
Mon, May 23 @ 7:30 – 9:30am: Germantown Chamber (Chase Bank, Mequon Rd)
Free coffee & donuts
Tues, May 24 @ 1 – 2pm: Germantown Fire Station
Meet Paw Patrol Marshall character & crafts
Tues, May 24 @ 3 – 4pm: Germantown Police Station
Meet Paw Patrol Chase character & crafts
Wed, May 25 @ 5 – 6pm: Kinderberg Park, Germantown
Meet our new dragon mascot, snacks & crafts
Thurs, May 26 @ 4 – 5pm: Heritage Park, Richfield
Meet Pete the Cat characters, snacks & coloring pages
Fri, May 27 @ 2:30 – 3:30pm: Fireman's Park, Germantown
Life-sized games, pizza & crafts.
Sat, May 28 @ 10:30 – 11:30am: Hickory Park, Jackson
Meet Pout Pout Fish, snacks & fish-themed crafts.

The Enchanted Library will also have regular stops this summer in Germantown, Jackson & Richfield and well as appear at special events. Visitors to The Enchanted Library can apply for a library card, check out or return books, place holds and participate in themed crafts and activities. We will also be offering free book bags or backpacks!
"We are very excited about the future opportunities that the new mobile trailer will bring to the community" says Cara Reimer, Outreach Services Specialist. "We will be able to bring more materials and programs to residents than ever before. The library is thrilled to grow our outreach efforts and continue to make connections in the area."