The Friends of the Germantown Community Library is a not-for-profit group that provides support and funding for library activities and projects that are not covered by normal staffing and budget. Since 1963, the Friends have worked to raise funds for materials, programs and services for the library.
All members are encouraged to attend regular meetings at the library at 9:00 am on the second Saturday of each month, September through May. Your ideas and suggestions are welcome. However if you are unable to attend these meetings, your support at our events and your financial support through your dues is appreciated.
To obtain a membership form you can pick one up at the library or download a copy here.
For more information:
---
FRIENDS ONGOING BOOK SALE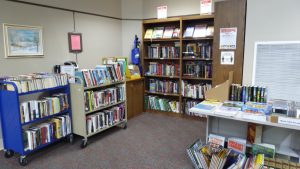 The Friends Ongoing Book Sale is a corner of the library to the left of the Circulation Desk which is open to the public whenever the library is open. A majority of the books and materials put out for sale will cost $1 per item, unless specially priced. Books are divided into categories, such as fiction, nonfiction, and recent donations. Sale shelves, book trucks, and table will be updated weekly or as needed. During the year, there may be special sales of books by particular authors and/or small themed sales.
FRIENDS POP-UP BOOK SALES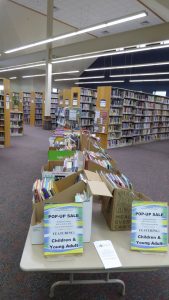 During the year, the Friends will sponsor Pop-up Book Sales on 2 tables in the main aisle of the library. These sales are usually themed sales (like novel, kids/YA, murder/mystery, fiction, non-fiction etc.), typically run for a month, and are open to the public during regular library hours.
---
DONATIONS OF ITEMS
Donations of new/used books, DVDs and music CDs are accepted throughout the year.  These items are evaluated by library staff for our collection and then given to the Friends of the Germantown Community Library for their Holiday Book & Basket Sale in November/December and ongoing book sales.  Please bring all items to the Circulation Desk anytime during regular hours.  If you have multiple boxes, staff will ask you to drop them off in the doorway through the back entrance.  We can provide a tax receipt upon request.
Restrictions include:
No moldy, smelly, or water damaged items
No records, VHS tapes, or cassette tapes
No  magazines
No encyclopedias (e.g. Britannica)
No software or CD-ROMS
No textbooks