---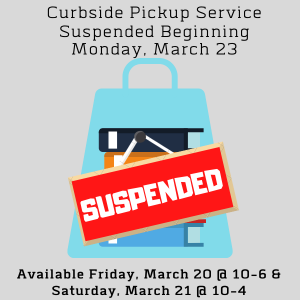 Friday, March 20, 2020
CURBSIDE PICKUP AVAILABLE FRI, 3/20 & SAT 3/21 / SUPENDED BEGINNING MON, 3/23 – PLEASE HELP US SPREAD THE WORD!!!
Given the announcement of the active COVID-19 cases in Washington County and the closure of all schools in the state of Wisconsin, the Germantown Community Library is currently closed to the public through Sunday, April 12 or until further notice.  All programs have been canceled through April.  We will reschedule those that we can at a later date.
The library will be offering Curbside Pickup only on Friday, March 20 from 10:00 a.m. – 6:00 p.m. and Saturday, March 21 from 10:00 a.m. – 4:00 p.m.  In order to reduce exposure to staff and community members, we will not be able to provide this service after this weekend and it will be suspended beginning Monday, March 23.  Our outdoor book drop will remain open for material to be dropped off.  Due dates on all items have been extended until Friday, May 1.
We also encourage you to take this opportunity to access any of our digital services, such as eBooks, eAudiobooks, digital magazines, databases and online classes from home with your library card at https://germantownlibrarywi.org/digital-material/.
If you do not have a library card, you can sign up for one through our website: https://www.monarchcatalog.org/polaris/logon.aspx  A staff member will be in contact with you within 24-48 hours with a permanent barcode and pin number that will allow you to access all of our digital material and databases.
If you have any questions regarding online resources or other services, staff will be available by phone at (262) 253-7760 Monday through Thursday from 10:00 a.m. – 12:00 p.m. & 5:00 – 7:00 p.m. and Friday from 10:00 a.m. – 12:00 p.m. You can also contact us by email circulationdesk@germantownlibrarywi.org or through Facebook messenger.  Please allow 24-48 hours for a response.
This decision was again a difficult one to make and we sincerely apologize for any inconvenience this may cause.  Thank you for your understanding as we work to make the best decisions during this time to protect the health of the community and our staff.  We value all of our patrons and will miss seeing all of you each day.  We hope that we can resume services as soon as possible.
We will be sharing updates on accessing digital materials and resources via social media and our website.  Here are some ways that you can stay up to date on library services during this time:
Trisha Smith, Library Director
Germantown Community Library
---
HELP THE FRIENDS OF THE LIBRARY AS YOU SHOP ONLINE
https://smile.amazon.com/ch/39-1447268
Amazon will donate 0.5% of the price of your eligible AmazonSmile purchases to the Friends of the Germantown Community Library whenever you shop on AmazonSmile. Simply select "Friends of the Duerrwaechter Memorial Library" when selecting your charitable organization.