---
---
FRIENDS OF THE LIBRARY HOLIDAY SALE THROUGH WED, DEC 30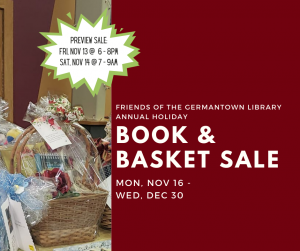 The Friends of the Library Annual Holiday Book & Basket Sale runs Monday, November 16 – Wednesday, December 30 during regular library hours.  200+ themed gift baskets for everyone on your holiday list this year!
– Holiday titles & gift quality used books also for sale
– Located on top of the Large Print Book Shelves across from the Information Desk
– Shop early for the best selection
– New items added weekly
– All funds support the Germantown Community Library
The library currently maintains a 25% capacity level. Due to COVID, we have extended the sale to the low shelves near the information desk to allow for more social distancing.
Cash or check only.
---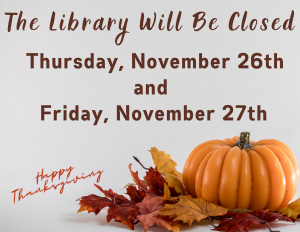 ---
MONDAY, NOVEMBER 16, 2020: PHYSICAL LIBRARY BUILDING NOW OPEN!
The Germantown Community Library will be reopening to the public on Monday, November 16 at 10am.  Limited hours of Mon-Thus 10am-7pm & Fri-Sat 10am-3pm will resume. Curbside Pickup encouraged by appointment.
If you have any questions, please call the library at (262) 253-7760 or email circulationdesk@germantownlibrarywi.org
Thank you,
Trisha Smith, Library Director
(262) 253-7760, Press 6
smithp@germantownlibrarywi.org
---
RB DIGITAL AUDIOBOOK TITLES WILL BE AVAILABLE THROUGH OVERDRIVE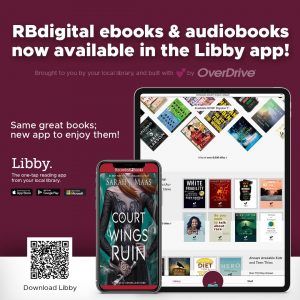 RB Digital has been merged with Overdrive. Digital audio titles will now be part of Libby! Materials will be transitioned on Sept. 14th, so check back Sept. 15th to see added items to this collection. Stay tuned for news on transfering of digital magazine & streaming content.
We apologize for any inconvenience that they has caused. Please contact the library at (262) 253-7760 if you need any assistance accessing Overdrive/Libby.
---
---
NEW! FINE FREE ON ALL YOUTH & TEEN MATERIAL / DVD FINES LOWERED TO $0.10

Starting Monday, September 14, the Germantown Community Library will be lowering all overdue fines for adult material to $0.10 per item per day and eliminating all overdue fines on children's and young adult material.  Click below to find additional information about this new policy and how it affects you.
September Fine Changes – Frequently Asked Questions
---

Why buy when you can borrow?  Get books, movies, magazines, digital audiobooks & more for free with your library card.  Sign up today at the Germantown Community Library or online at www.GetYourLibraryCard.org. #GetYourLibraryCard
---
ONLINE APPOINTMENTS NOW AVAILABLE FOR CURBSIDE PICKUP SERVICE!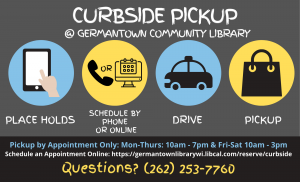 Here's how it works:
1.) PLACE YOUR HOLDS – Place your items on holds through the Monarch Catalog, Monarch2Go app or by calling the library at (262) 253-7760. You will be notified via email, text or phone when your holds are ready for pickup.
2.) SCHEDULE BY PHONE OR ONLINE – When you are ready to pick up your items, call the library and our staff will schedule an appointment that is convenient for you.  You can also make an appointment online by visiting https://www.germantownlibrarywi.libcal.com/reserve/curbside
Select the date: The default is today's date.  If you would like a different date, click on the 'Go To Date' button below.
Select the time: Click on a green box for the time you want.  If you do not see any green boxes, this indicated there are no appointment available for the combined date and time you have selected.
Confirm the date and time: The time you selected will turn yellow and the appointment  information will be displayed below the time chart.  Click on the "Submit Time' button to continue.
The next screen will give you more information.  Click 'Contine."
Fill out the form with your information and click 'Submit.'
3.) DRIVE – At your appointment time, drive into the circular drive by the library front door.  You can arrive anytime during your scheduled 30-minute appointment.
4.) PICKUP – Then exit your car and go to the front door. Your items will be placed at the table in the front entrance and will be labeled with the last four digits of your library card barcode and the first three initials of your last name. Take your bag and enjoy!
Please allow up to 24 hours for items to be pulled.
Questions? Visit our 
website
or give us a call at (262) 253-7760.
---
PLEASE NOTE (EFFECTIVE AUGUST 1, 2020):
Under Wisconsin Emergency Order #1, Wisconsin residents ages five and older are required to wear a face covering when inside the Germantown Community Library building.  Masks are available free of charge at the Welcome Table in the lobby for those that need a mask while visiting the library.  Thank you for your patience and understanding as we work to follow CDC, local & state guidelines.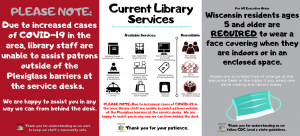 ---
GERMANTOWN COMMUNITY LIBRARY OPEN ON THURSDAY, MAY 21
As of 10:00am, the Germantown Community Library physical building is currently open for the following essential service:
Browsing of material on shelves
Picking up material placed on hold
Checking out material
Printing, photocopying and faxing
Internet and computer access
Individual use of seating areas and study rooms
The building is currently limited to 25% or 43 people.  We recommend that patrons wear a mask, limit their stay to one hour per person per day, practice social distancing and stay home if exhibiting any symptoms of COVID-19.  We encourage patrons to continue to use our Curbside Pickup and Library Express Bag services to provide contactless options for obtaining library material.
Library hours are currently limited to the following:
Monday – Thursday: 10am – 7pm
Friday – Saturday: 10am – 3pm
Place holds on Germantown items if you would like to receive your holds as quickly as possible.  Items from libraries in the Monarch Library System may take a lot longer than usual due to limited van delivery.  Items from WISCAT through Interlibrary Loan are currently unavailable and we are not able to accept any requests.
Thank you for you patience and understand as we work through this process and continue to serve our community to the best of our ability.
---
NOW AVAILABLE: LIBRARY EXPRESS BAGS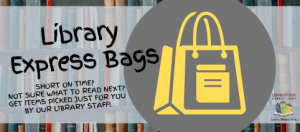 Don't have a lot of time on your hands?  Not sure what to read next? Looking for something new and different? Fill out the forms below and library staff will select the requested number of items for you based on your age and preferences.
Due to high volume, items may take at up to 3 days to process. You will receive an automated message when items are ready to be picked up and you can then call the library at (262) 253-7760 to schedule a Curbside Pickup appointment or stop by during opening hours.
---
PLACING HOLDS ON GERMANTOWN COMMUNITY LIBRARY ITEMS
Our van delivery service is still very limited so selecting Germantown items will all you to receive your items as quickly as possible.
This video below will teach you how to find out if specific items are available at your preferred Monarch Library location for pickup. The example in the video is the Plymouth Public Library, but steps can be modified for the Germantown Community Library.
---
LIBRARY CLOSED: DIGITAL MATERIAL/RESOURCES & PHONE SUPPORT AVAILABLE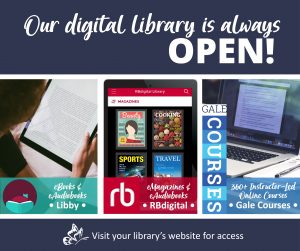 We encourage you to take this opportunity to access our digital material, databases & online courses.  If you do not have a library card, you can sign up for one through the Monarch Catalog.  A staff member will be in contact with you within 72 hours with a permanent barcode and pin number that will allow you to access all of our digital material and databases.
Questions? Contact the library at (262) 253-7760 or though email: circulationdesk@germantownlibrarywi.org
---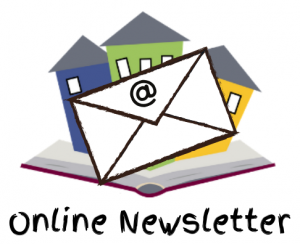 ---
HELP THE FRIENDS OF THE LIBRARY AS YOU SHOP ONLINE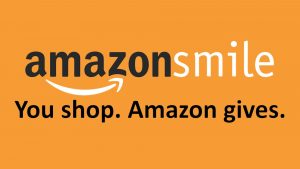 Amazon will donate 0.5% of the price of your eligible AmazonSmile purchases to the Friends of the Germantown Community Library whenever you shop on AmazonSmile. Simply select "Friends of the Duerrwaechter Memorial Library" when selecting your charitable organization.