---
PLEASE NOTE (AUGUST 1, 2020):
Under Wisconsin Emergency Order #1, Wisconsin residents ages five and older are required to wear a face covering when inside the Germantown Community Library building.  Masks are available free of charge at the Welcome Table in the lobby for those that need a mask while visiting the library.  Thank you for your patience and understanding as we work to follow CDC, local & state guidelines.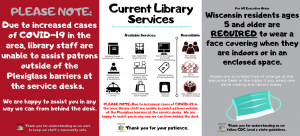 ---
SUMMER READING CHALLENGE FOR ALL AGES BEGINS JUNE 15!

Our summer reading program will look a bit different this year as we follow social distancing guidelines.
Click here to learn more!
Click here to view our summer online & take home programs.
---
GERMANTOWN COMMUNITY LIBRARY OPEN ON THURSDAY, MAY 21
As of 10:00am, the Germantown Community Library physical building is currently open for the following essential service:
Browsing of material on shelves
Picking up material placed on hold
Checking out material
Printing, photocopying and faxing
Internet and computer access
Individual use of seating areas and study rooms
The building is currently limited to 25% or 43 people.  We recommend that patrons wear a mask, limit their stay to one hour per person per day, practice social distancing and stay home if exhibiting any symptoms of COVID-19.  We encourage patrons to continue to use our Curbside Pickup and Library Express Bag services to provide contactless options for obtaining library material.
Library hours are currently limited to the following:
Monday – Thursday: 10am – 7pm
Friday – Saturday: 10am – 3pm
Place holds on Germantown items if you would like to receive your holds as quickly as possible.  Items from libraries in the Monarch Library System may take a lot longer than usual due to limited van delivery.  Items from WISCAT through Interlibrary Loan are currently unavailable and we are not able to accept any requests.
Thank you for you patience and understand as we work through this process and continue to serve our community to the best of our ability.
---
NOW AVAILABLE: LIBRARY EXPRESS BAGS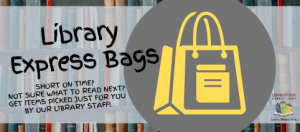 Don't have a lot of time on your hands?  Not sure what to read next? Looking for something new and different? Fill out the forms below and library staff will select the requested number of items for you based on your age and preferences.
Due to high volume, items may take at up to 7 days to process. You will receive an automated message when items are ready to be picked up and you can then call the library at (262) 253-7760 to schedule a Curbside Pickup appointment or stop by during opening hours.
---
CURBSIDE PICKUP SERVICE CONTINUES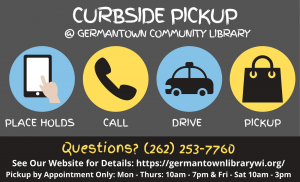 Here's how it works:
PLACE YOUR HOLDS – Place your items on holds through the Monarch Catalog, Monarch2Go app or by calling the library at (262) 253-7760 for assistance for Germantown Community Library. You will be notified via email, text or phone when your holds are ready for pickup.
CALL – When you are ready to pick up your items, call the library and our staff will schedule an appointment that is convenient for you.
DRIVE – At your appointment time, drive into the circular drive by the library front door.
PICKUP – Wait in your car until you are in the 1st position. Then exit and go to the front door. Look for the bag with the last four digits of your library card barcode and the first three initials of your last name. Take your bag and enjoy!
Please allow up to 24 hours for items to be pulled.
Watch the video below through Facebook on how our Curbside Pickup Service will work.
Here is a video guide to the Germantown Community Library's Curbside Pick-up starting tomorrow!

Posted by Germantown Community Library on Thursday, April 23, 2020
Questions? Visit our 
website
or give us a call at (262) 253-7760.
---
PLACING HOLDS ON GERMANTOWN COMMUNITY LIBRARY ITEMS
Our van delivery service is still very limited so selecting Germantown items will all you to receive your items as quickly as possible.
This video below will teach you how to find out if specific items are available at your preferred Monarch Library location for pickup. The example in the video is the Plymouth Public Library, but steps can be modified for the Germantown Community Library.
---
LIBRARY CLOSED: DIGITAL MATERIAL/RESOURCES & PHONE SUPPORT AVAILABLE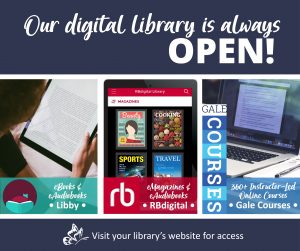 We encourage you to take this opportunity to access our digital material, databases & online courses.  If you do not have a library card, you can sign up for one through the Monarch Catalog.  A staff member will be in contact with you within 72 hours with a permanent barcode and pin number that will allow you to access all of our digital material and databases.
Questions? Contact the library at (262) 253-7760 or though email: circulationdesk@germantownlibrarywi.org
---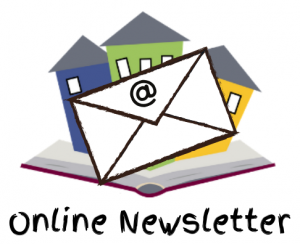 ---
HELP THE FRIENDS OF THE LIBRARY AS YOU SHOP ONLINE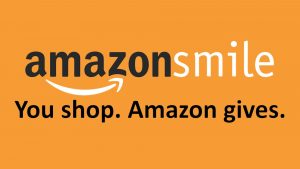 Amazon will donate 0.5% of the price of your eligible AmazonSmile purchases to the Friends of the Germantown Community Library whenever you shop on AmazonSmile. Simply select "Friends of the Duerrwaechter Memorial Library" when selecting your charitable organization.