Your Monarch Library System & Germantown library card gives you access to various online resources & databases.  Click here to view information on access to digital material including books, audiobooks, magazines, movies, music & more!

The Monarch Catalog allows you to search the items that are held in Germantown Community Library, as well as all 33 libraries in Dodge, Ozaukee, Sheboygan and Washington counties.
---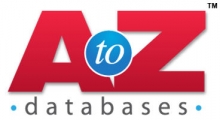 A to Z Databases offers 30 million business and executives' profiles, 220 million residents, 1.1 million healthcare professionals, 2 million new businesses, 2.3 million live job listings, interview tips, resume templates, background and criminal search results, and much more! Searches can be done using various selects in the wide variety of offered databases. For instance, in the 220 million residents' database the user can search using interests, hobbies, and lifestyles of people. The database is ideal for sales leads, mailing lists, marketing research, employment opportunities, background and criminal searching, finding friends and relatives and much more! Subscription for Washington County card holders.  Other areas may be limited.
---

Ancestry provides more than 1.5 billion names in over 4,000 databases, Ancestry Library Edition includes records from the United States Census; military records; court, land and probate records; vital and church records; directories; and passenger lists. Subscription for Washington County card holders.  Other areas may be limited.
Due to COVID-19, at-home access for Ancestry is available until June 1.  Please follow the steps below:
1.) Choose "Germantown Community Library" and enter your library barcode on the BadgerLink website at https://badgerlink.dpi.wi.gov/login
2.) Exit out of the BadgerLink website (do not log out).
3.) Return to this page and click on the Ancestry link at https://www.wiscat.net/ext/validateglobal.php?cid=stwi&lid=stwi&dataid=147
---

BadgerLink is Wisconsin's Online Library, providing Wisconsin residents with licensed content not available through regular search engines. This resource includes magazines, newspapers, scholarly articles, videos, images, and music. Here are a few of the most used:
---

Gale Courses  provides access to over 360 online courses on multiple topics of interest, including career training programs. If you seek deeper knowledge of areas from A (Accounting) to W (Writing), Gale Courses has something for you.
---

Pronunciator is a fun and free way to learn any of 80 languages in 50 languages at your own pace with self-directed lessons, live teachers, movies, music, and more.  Online access is available in a browser on a computer and app for your mobile devices.  You will need to create an account to use the mobile app and sign in with your user name and password. An online prep test course designed for immigrants to succeed at the Naturalization test is also available through ProCitizen.  Subscription for Washington County card holders.  Other areas may be limited.