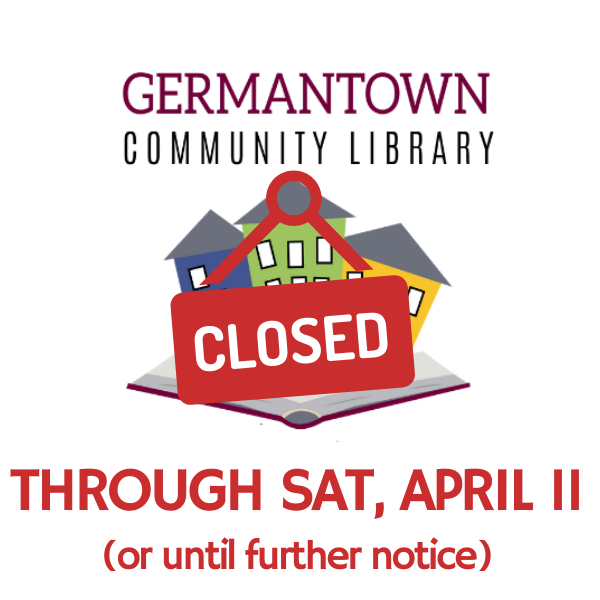 Friday, March 13, 2020
Given the announcement of the active COVID-19 case surrounding counties and the closure of all schools in the state of Wisconsin, the Germantown Community Library is CLOSING to the public effective immediately through Sunday, April 12 or until further notice.  This includes all programs and use of the community room, including the Friends of the Germantown Community Library Book Sale.  We will be working in the coming days to do our best to reschedule programs if we are able to do so.
Our outdoor book drops will remain open during this time.  If you have any symptoms of COVID-19 or are not able to return your library material, please do not feel obligated to do so.  All items currently checked out will be automatically renewed on their due date until Friday, May 1.
We also encourage you to take this opportunity to access any of our digital services, such as eBooks, eAudiobooks, digital magazines, databases and online classes from home with your library card at https://germantownlibrarywi.org/databases/
If you have any questions regarding placing holds or online resources, staff will be available by phone at (262) 253-7760 Monday through Friday from 10:00 a.m. – 4:00 p.m. You can also contact us by email circulationdesk@germantownlibrarywi.org or through Facebook messenger. Please allow up to 24-hours for a response.
This decision was a hard one to make and we sincerely apologize for the inconvenience that closing the library has caused. Thank you for your understanding as we work to protect the health of the community and our staff. We value all of our patrons and hope that we can resume services as soon as possible. Please check our website and Facebook page for any updates – as this situation is changing rapidly. We will do our best to keep you updated on any changes in opening hours or services that we are able to provide.
Trisha Smith, Library Director